Next time you're out, look around you. Most likely, you'll see plenty of Smartphones in people's hands, and not just to their ears, either. These days, Smartphones are more of a pocket computer than just a telephone.
Everyone and their grandmothers are connected, and as a result, there has been more competition in the wireless market than ever before. With their newly announced wireless expansion, including a new online experience, additional in-store kiosks, and an army of Wireless Experts, Walmart is stepping up to meet the challenge.
Low Prices, Hi-Tech
Walmart's biggest claim to fame is its low prices, but the company has a long relationship with the wireless phone industry, too. Walmart Wireless has been providing customers with affordable wireless phones and plans for years, but times are changing. These days more people have phones than ever before, so having affordable options for everyone has become super important.
With all this demand and lots of other players in the market, Walmart knew it was time to do something bold. That's why they teamed up with OSL to bring shiny new wireless kiosks into an additional 600 stores by the end of 2019.
Meeting the Rising Demand
In more than 3,000 Walmart stores, customers can find the expert help they need on everything from upgrading phones to activating new lines of service, compliments of OSL's tech warriors. Want to try out new tech? Check out live product demos at Walmart. Tired of the same old selection of accessories? Shop Walmart, either in-store or online. With so much demand, OSL offers plenty of opportunities for anyone interested in OSL careers at Walmart, especially tech careers.
Your Mission, Should You Choose to Accept It
With so many more stores to staff, OSL is expanding our ranks of Wireless Experts. Your mission, should you choose to accept it, is to help bring the world into the wireless future. As an OSL Wireless Expert, you'll be selling Smartphones and contracts, doing product demos to show customers the latest and greatest, and of course, doing it all with your stellar customer service skills. If you're the kind of person who can not only talk about the pros and cons of different tech or different carriers but also do it with pizazz, then this job is for you!
Why Become an OSL Tech Warrior?
If you geek out every time new tech drops, you'll definitely want to check out OSL's Walmart careers. Not only will you be working in an industry you love, talking about and demoing exciting tech all day, you'll become a part of the OSL family. We treat our employees the way we'd want our family to be treated, with benefits such as:
Hourly pay plus commissions for some serious earning potential
Discounts and other perks, such as cool contests
Paid vacation time
Medical and dental
Employee referral program of $250 and up
On-the-job training programs to help you get up to speed
A rewarding career with serious potential for recognition and advancement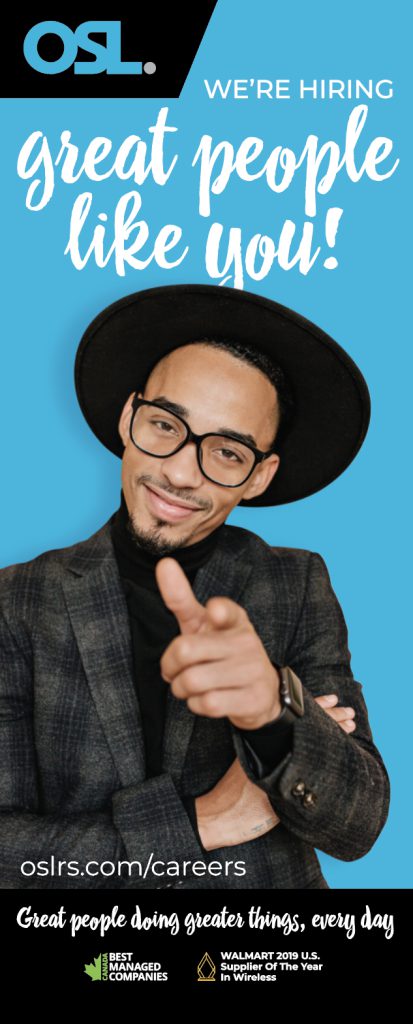 For Walmart Careers, Think OSL
You have some serious skills, and you know it. Your friends may be tech-savvy, but your knowledge of the industry and understanding of the tech goes way beyond the norm. Sound like you? Then show us what you've got! Remember, the first and most important skill of a good salesperson is not to sell yourself short. Browse OSL's Wireless jobs today and launch a career worthy of your expertise.
Also Read: