From the minute you get up in the morning until the minute you go to bed at night, your life is connected to the retail industry. Nearly everything that your routine depends upon, from the alarm clock that wakes you up to the pillow you lay your head on at night, came from a store at some point. We are always interacting with retail stores, whether in person or remotely, several times throughout the week.
With this in mind, it's not much of a stretch to say that retail makes the world go 'round. This is especially true once you consider how many people work in this booming industry, in order for it to support the needs of our entire society! As one of the largest industries worldwide, retailers don't just meet the needs of consumers, but also provide valuable work opportunities for millions of people. Retail jobs currently make up one of the biggest and fastest-growing job sectors.
With such a huge industry and so many retail stores hiring, working in retail can literally change your life. Here is just a taste of how!
Room for Advancement
Do you have big plans for your career? Retail jobs offer many paths to the top! A wide variety of jobs means plenty of chances to prove yourself and get ahead. At OSL, we believe in rewarding talent and dedication, which means your hard work really does pay off. Here's what to expect when you work for OSL.
Retail Sales Associate: Unless you have experience in management or something comparable, you'll generally start as a sales associate. At OSL's wireless kiosks stationed at Walmart stores across the country, you'll be known as a wireless retail sales associate or mobile expert. Prove yourself with your stellar sales pitches, customer wrangling skills, and dedication as a team player.
Shared Service Manager or Multi-Unit Manager: If you don't already have experience in retail management jobs, that's okay! Put in your time, learn the ropes, and work your way up into a team lead position, also known at our wireless kiosks as a multi-unit manager or shared service manager. Demonstrate your management abilities by driving the success of 2 to 4 wireless kiosks.
District Manager: Those who prove their dedication and management skills will have a shot as a district manager. All of your marketing and people skills culminate in the ability to successfully manage the sales and personnel of multiple teams. This is where you get to show your ability to make a real difference by driving sales, inspiring sales associates, and coaxing success out of underperforming stores.
The Flexibility to Work on Your Terms
One of the biggest draws of retail careers is escaping the 9-to-5. Retail associate jobs especially offer a lot of flexibility to those who want or need a non-traditional schedule. For instance, working retail offers you the flexibility of working part-time or non-traditional hours while finishing school or raising kids, and transitioning into a full-time career when your schedule allows. If you're working toward a different goal, retail store jobs also offer the ability to transfer to another career after having learned valuable, cross-industry skills.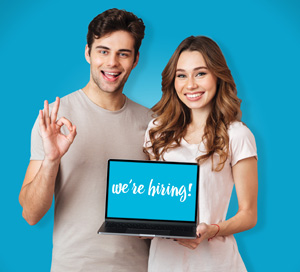 Start Your Job Search with OSL
Are you ready to make a change in your life? Everyone has to start somewhere! You don't need any retail experience, but think about what experience you do have and how it can benefit you as a sales associate, team member, and future manager. Start your search for retail jobs with OSL today!
Related: