OSL Retail Services continues to build on their people first approach by partnering with MESH/diversity, focusing on developing a more diverse, inclusive and supportive workplace culture. OSL Retail Services, a leader in out-sourced sales services selected MESH/diversity for their unique approach and expertise to empower organizations with tools and resources to improve culture, focus on growth opportunities and leverage existing talent.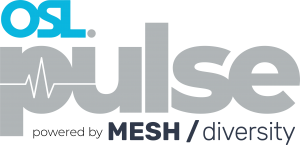 "MESH Diversity IntelligenceTM will allow OSL to identify, assess and manage behaviors to help strengthen our corporate culture," said Gary MacAskill, Managing Partner at OSL Retail Services. Using predictive algorithms, the company's Diversity Intelligence PlatformTM measures and drives inclusive culture, where the best people will want to work, stay and thrive. "Companies are increasingly recognizing the value of building inclusive cultures," says Mike Wright, CEO of MESH/diversity. The partnership will allow OSL Retail Services to focus on allowing each of their employees to have a meaningful impact on the company culture and future success.
About OSL Retail Services: OSL is a team of great people doing greater things, every day. We connect people to brands through superior sales and outstanding customer service. Driving sales through engagement is our promise. Opportunities to drive purchases are everywhere. From shelf to service, OSL turns opportunities into transactions. We combine technology, process and passion to create engaging experiences that drive purchase decisions. It's about establishing long-term relationships with our customers. Passionate employees and outstanding customer service are all built upon that foundation. At OSL, we are family.
About MESH/diversity: MESH/diversity is a diversity and inclusion company that takes a data driven, scientifically proven approach to benchmark, measure and drive inclusive cultures where the best people want to work, will stay and can thrive.
For more information, press only:
PR Contact Name: Christina Mercieca
Phone number: 647.273.5163
Email: [email protected]
For more information on MESH/Diversity & OSL:
Website: https://oslrs.com/
About MESH: MESH/diversity works with companies to build diversity and inclusion solutions based on real data from their organizations. The Diversity IntelligenceTM platform allows companies to benchmark, measure and drive an inclusive culture where the best people want to work, will stay and can thrive. The MESH approach is built on a foundation of safety, belonging and engagement. MESH/diversity also provides training and consulting that covers all topics related to diversity and inclusion to help companies build positive cultures and drive D&I across their organization.