Have you ever had a job where you enjoyed the work, but didn't feel like you fit into the culture or dreaded going to work every day? Of course you have! Everybody's had those kinds of experiences, right? In retrospect, it most likely had nothing to do with the job itself, and everything to do with the company culture.
When it comes to evaluating the best places to work, company culture is ranked amongst one of the top reasons people stay. Company culture is what makes your workplace feel welcoming and energizing instead of cold and unfriendly. Company culture directly impacts your everyday life; it makes you feel valued, fuels your energy levels and drives your motivation. Positive company culture does more than just make you feel happy at your job. It's the difference between feeling like you have "just a job" vs. having a place where you belong.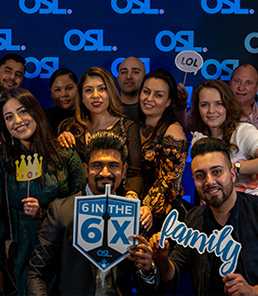 How We Create Positive Company Culture
As a top employer in North America, we are proud to have created one of the best places to work. And it didn't happen by accident! There are a lot of behind-the-scenes decisions that went into creating our company's culture. Here are some of the things we do on a regular basis to make working with us one of the best experiences you'll ever have.
We hire the right people. The people we choose to work with are super important. They help us create the culture and environment we strive for. Are you an energetic, fun-loving people person with an interest in tech and gadgets? If so, you're just the sort of person we're looking for.
We make no secret about our values and our mission. At OSL, we value people over products. Strong, long-term relationships, with both employees and clients, are why we were recognized as one of Canada's Best Managed Companies in 2018, 2019, 2020 and 2021!
We know the value of a good idea, no matter where it comes from. A great idea is a great idea. If you have a suggestion, no matter who you are, we want to hear it! You have a voice at OSL, and we encourage our people to express ideas that they feel can help make us better.
We prioritize teamwork. We always support each other. Is there a little bit of friendly competition? Of course, that's just a natural part of working in a sales environment. We believe in carefully selecting team members who can work well together, valuing every member equally, and encouraging strong relationships and a positive working environment.
We have fun! As a company, we participate in fun social campaigns month after month. In 2020 for example, we launched our first ever OSL's Got Talent with over 32 incredible contestants. Not only are OSL-ers hustlers, they are super talented too!
We give back. OSL Cares, our corporate social responsibility program, has achieved noteworthy things over the past year. From coordinating Thanksgiving Food Drives to partnering with Boys & Girls Clubs across North America, we have been able to donate to various causes and local communities close to our hearts.
We empower women. Women's Empowerment at OSL is a safe space for our leaders and powerhouse women to come together and amplify their voices, reach their full potential and receive support in their personal and professional development.
We promote diversity and inclusion. We respect, encourage, support and celebrate all the diverse voices of our employees and foster an inclusive environment. At OSL, we invite everyone to the party and ask them ALL to dance.
The OSL Difference
So, what makes us different from other sales driven organizations? Rather than focusing solely on productivity and cold, hard numbers, OSL recognizes that it's the people who make the company. We invest in YOU! But don't just take our word for it! Browse our available career opportunities today and find out firsthand why OSL is one of the best places to work.