What does a typical morning look like for you?
A typical morning consists of getting my kids ready for school. Just before they head on the bus, I ask them (they are 11 and 7 years old) how many phones they want me to sell for the day. And let me tell you, if I don't accomplish it, I won't hear the end of it!
Then I jump into my car and get my morning coffee – XL 2 cream.
In my car, I listen to music to get me pumped! Metal and Hip Hop; even though they are very different, they have a way of getting me going! I will play a great video (I listen to the audio) called 'Mindshift Motivation Video.' It was presented to me years ago by my District Manager and it gets me into a positive mindset to start my day!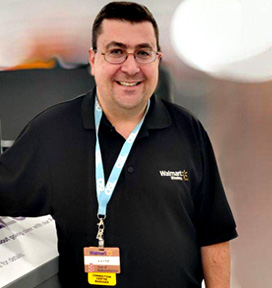 Take us through what the rest of your day looks like?
Once I get into my store, I sign in at the Customer Service Desk, then head back to my kiosk. I always greet everyone I pass with a smile! I do my daily cash in, price changes and review any emails on OSL Connect. This helps me know what promotions are current and know what has expired.
If it's a Monday or Thursday, I then proceed with our Inventory Count.
I then familiarize myself with any new price plans because you will be surprised how many times carriers change their plans!
Then I jump on the PA and do what I love to do – talk on the intercom and I come up with a fun and witty way to grab our customer's attention! The rest of the day I focus on selling and doing PA's! I greet every customer that comes by, offer assistance and find out what phone they have to see if they are eligible for a new one! It's amazing how many people still don't know we sell phones in Walmart!!
When it slows down a little, I tackle my operational duties which includes and not limited to contract audits, RMAs and even receiving.
Customers always come first and when a customer asks a question, I stop what I'm doing and offer assistance. Even if it's not my department, it gives me the opportunity to help them and in turn offer a 'Free Hardware Upgrade check.' If I'm lucky, I ask to pull up their account and see if there are any offers I can present to the customer. Once I'm in their account, I have a better chance of closing the sale! And with the deals at Walmart, who wouldn't want to get a new phone from me?!
How do you end your workday?
At the end of the day, I always remind my staff of the store goal for the day. I leave them with a positive message which encourages them! If I'm the one closing, I'll go through the closing checklist, count my cash and lock every cabinet up.
I always say goodbye to my staff and Walmart Associates, then I sign out up front and then head home.
Three skills I need to do my job successfully are:
Positive mindset – Without it, customers will sense it and won't talk to you or worse, won't purchase a phone from you!
Adaptability – with promotions, price plans and price changes constantly being updated, you have to be adaptable!
Good sense of humour – Having customers laughing is infectious! Other people see it and wonder what's going on, which in turn increases awareness of the business and sometimes even more sales!
Also, don't take things too seriously or personally. A customer may come in angry that their bill is high, and remember they aren't mad at you, but at their situation. It's then my job, to show empathy and create a solution!
What is the most challenging part of your job?
The most challenging part of the job is when refunds happen. It's a sales job, so yes, sometimes a customer is not happy with their phone you sold them. You try and 'save it' or exchange it for something else but they just want to go back to their old device or "don't like technology." It feels like the end of the world at the time but remember; we're in Walmart, and there is more than that one customer!
What is the most rewarding part of your job?
The most rewarding part about my job is repeat business/customers. Being with OSL for almost 6 years now, my loyal clientele have followed me to each store I have worked at! Some have even driven an hour to come see me. Also, when customers come back and tell me how much they love their phone and that I made their day is extra special. These are the satisfied customers who refer people to me and that makes me happy!
Also, OSL is like one big family. From head office to in-field, everyone treats everyone with respect and we're not "just a number."
If you want a rewarding career, look at OSL!