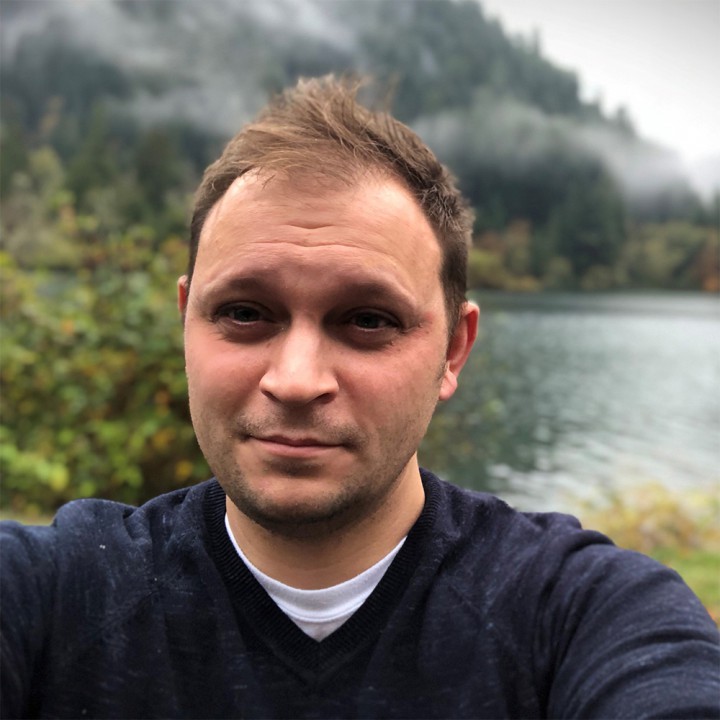 OUR DAY IN THE LIFE SERIES GIVES US A GLIMPSE INTO THE DAY TO DAY OF OUR CORPORATE AND FIELD EMPLOYEES ACROSS NORTH AMERICA. THIS MONTH, WE SPOKE WITH DISTRICT MANAGER RYAN FROM PACIFIC NORTHWEST, FOR A SNEAK PEAK INTO WHAT A TYPICAL WORK DAY LOOKS LIKE FOR HIM.
What does a typical morning look like for you?
Coffee, reviewing KPIs, and then nothing. Well not exactly nothing. I take my dogs for a stroll, a quiet Zen moment, a quick walk through my neighborhood. Being in the Pacific Northwest, my views are breathtaking. Low hanging clouds smashed against the Coburg Hills. If you have never seen something like that before, come to Oregon for a visit. Your jaw will hit the floor. That small bit of time allows me to think and plan and stew on my day, month, quarter, and even the year. The long game is something that often gets over looked in the daily grind. I want to make sure that, in my morning slice of heaven, there is time to see the bigger picture.
It allows me to put an agenda together, focus on what matters most, and not what is burning right in front of me. Having that time to consider the broad strokes of my business has been paramount in me having a successful plan. And when there are only two reasons for failure: a bad plan or bad execution. I can guarantee I've put enough thought in to execute flawlessly on a great plan.
Take us through what the rest of your day looks like?
At the heart of it, I am a road warrior. Face to face interactions beat a phone call or a text message any day of the week. Certainly, those things are great to push information, but I live in a collaborative world. Having that time to work with each part of my business—getting my hands dirty—is bona fide awesome. Partnerships and relationships are king at OSL. From store management to the mobile expert and from my director to the head honchos at the corporate office, being engaged with them is vital. Numbers only tell half the story, it's the people who matter, and I focus directly on them.
My job, simply put, is to make my team better, stronger, more knowledgeable, and dynamically more social. I help build and shape careers through coaching, development, and helping my team achieve their goals. Everything else I do from conference calls to looking at inventory is in service to that primary driver.
How do you end your work day?
When a baseball gets thrown toward the batter, the pitcher doesn't grab another ball and lob it moments after the first. He waits to see if the catcher snags it, or if it connects with the bat. Success comes from understanding that sliver of time. The moment before he strikes the batter out. Each of my days end like that. Understanding what went well, what went according to plan, and what could have been done better. I review the day, examine the game footage as the saying goes, speak to my leadership team, and generate a list of priorities for the next morning.
What are three key skills that are important to performing your job?
Creativity, organization, and rapport building.
What is the most challenging thing about your job?
The most challenging part of this job is often its greatest strength. You'll see a theme in my comments of how open this company is to change and evolution, and that is a great challenge to have. Striving for success often means equal parts evolution and revolution. There is a lot to love in being the cause of the wave rather than just riding it.
What is the most rewarding part of your job?
Having creative freedom. This is truly an entrepreneurial playground. It is make-or-break a lot of the time, and knowing that the energy I put in from a developmental, cultural, or operational capacity outputs many times over is thrilling. It feels great to watch a sales team and a leadership team develop, own their businesses, and have the ability to grow, change, and innovate without repercussions is amazing.
What would you say to someone considering a job with OSL?
Do it. We are a young organization with a wealth of experience from every part of our business. We can act quickly, be proactive rather than reactive, and from where we are now can only go up. If a career with OSL is in your hand, do it. You won't be disappointed if you want something new, challenging, and on the verge of great things.
Would you like to leave us with any last thoughts?
Have a guiding light with what ever it is you do. Be the best at something. At OSL, we want everyone to perform their very best, and the skills that we teach, the behaviours we expect, and the culture we maintain allow you to do this. It is a great honor to be part of this team, and I look forward to many more years to come.
---
YOU MIGHT ALSO ENJOY
A DAY IN THE LIFE: ELAINE SUPP
A DAY IN THE LIFE: RAY WALKER
A DAY IN THE LIFE: STUART HOMEWOOD
A DAY IN THE LIFE: GIULIA IANNINO