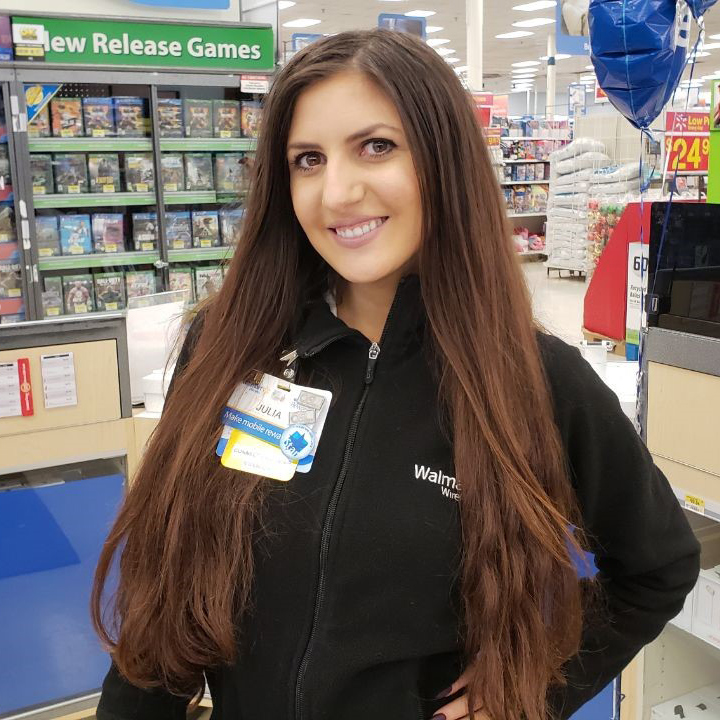 OUR DAY IN THE LIFE SERIES GIVES US A GLIMPSE INTO THE DAY TO DAY OF OUR CORPORATE AND FIELD EMPLOYEES ACROSS NORTH AMERICA. THIS MONTH, WE SPOKE WITH WIRELESS MANAGER GIULIA FROM HAMILTON, ONTARIO, FOR A SNEAK PEEK INTO WHAT A TYPICAL WORK DAY LOOKS LIKE FOR HER.
What is the first thing you do when you get into the store?
The first thing I do once I get into the store is sign in at the front desk and head over to the wireless kiosk. Then, I'll go through the morning checklist to open the kiosk. I love to start my day with putting on some music and posting a motivational quote on our team white board to set the tone for my associates for the day. It's a great way to get the team pumped for a sales day!
What does a typical work day look like for you?
After my morning routine, I'll begin my day with staying on top of any admin items and scheduling what needs to get done for the week.
I'll go through updated plans and phones with the team, making sure to call out the latest deals we have available in store. We have group chats with our district team and carrier partners, so we are always checking our chats throughout the day to ensure we have the latest carrier changes, pricing updates and team information as they come up.
The rest of the day really focuses on making our sales for the day. Chatting with customers and ensuring I help them find the best phone solution for their needs. I'll also work with my team go over any training that needs to be done regarding carrier processes and OSL policy.
How do you end your work day?
At end of day, we go though a checklist for closing, take demo phones down, do a cash out and set up for the next day. Once our closing is complete I'll call a customer service manager to do a final kiosk shut down and then sign out for the day. Finally, I will send an email to our district manager with updated number of sales for the day.
What are three key skills you need to perform your job?
The three skills that are most important for my role are communication and interpersonal skills, problem solving and self management skills.
What is the most challenging part about your job?
The most challenging part of my role is dealing with customer complaints. It's tough because you can't always control the changes that happen with plans or phone pricing so if you quoted a customer a cost one week and it doesn't go through when the customer comes back in store, it can be a challenge to approach the customer with another solution. When this happens I always tell my team to not feel bad about asking the right questions, take the challenge as an opportunity to dig deeper and help the customer find an alternative solution that works for them.
What is the most rewarding part about your job?
There are two things that I find to be the most rewarding about my role.
Interacting with customers. I have customers that have been coming to see me since I started four years ago. Building rapport with long-term clients and knowing when a customer appreciates your help really makes my day.
Being part of the OSL family. Working for this company, you are always recognized. There is always an incentive or contest that encourages employees. Management is very supportive when ever you need help. I love coming to work for this reason.
Do you have any last thoughts you'd like to leave us with?
I just want to highlight the support you receive working for OSL. There are so many people available to reach out to. You feel like family when you get onboarded to the team. It never feels like just a job, it's like you're working with family.
---
YOU MIGHT ALSO ENJOY:
A DAY IN THE LIFE: RYAN MOORE
A DAY IN THE LIFE: ELAINE SUPP
A DAY IN THE LIFE: RAY WALKER
A DAY IN THE LIFE: STUART HOMEWOOD