The employee experience is important. A job is more than just a paycheck, benefits, and potentially a retirement plan – it's how you spend more than half your waking hours. Workers (and employers!) are starting to realize how much workplace culture contributes to job satisfaction and how long people are likely to stay. The promise of a strong, positive workplace culture promises better job satisfaction, but more importantly, it shows that the employer cares about their staff.
So how do you evaluate the best places to work before you actually work there? Here are a few things to look for to help you find the best company culture.
First Things First: Know What You're Looking For
"Workplace culture" sounds like a fairly vague and nebulous term, so it helps to understand what you're actually looking for. A strong workplace culture isn't just a break room with snacks and foosball, even though those things are great perks! Sure, you'll want to look for companies offering comprehensive benefits in retail, but don't forget to pay attention to the bigger picture. Make note of whether the employees have a passion for where they work, and whether the company has a clear purpose that is reflected in their website, marketing materials, and workplace. Employees shouldn't just work for the company, they should identify as part of the company.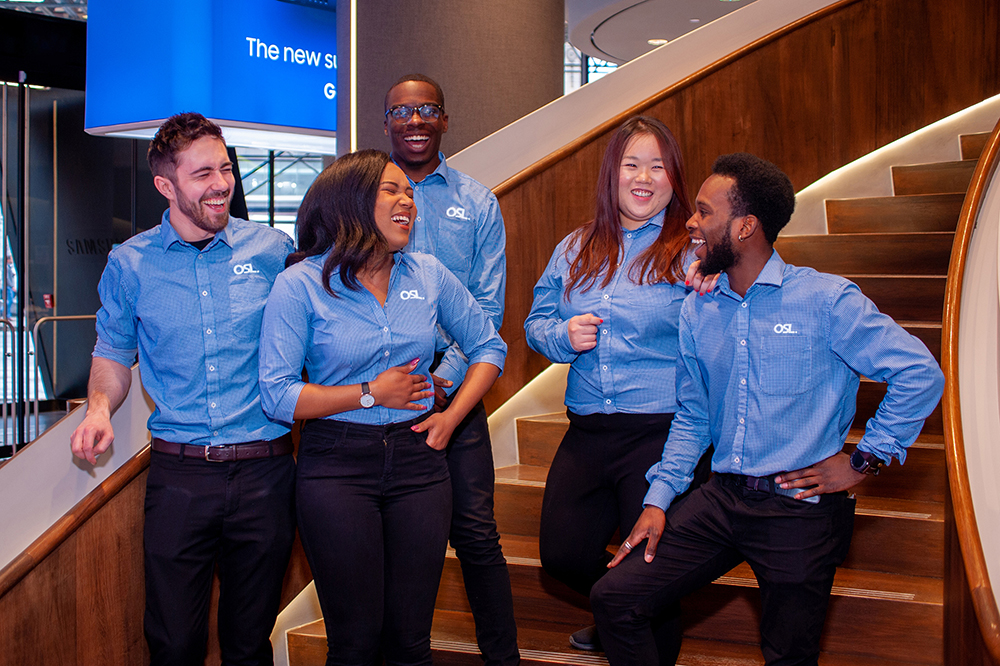 Look for Concrete Vision and Values
A company that has a clear path will have a stronger workplace culture and be one of the best places to work retail. Knowing and identifying with the company's purpose means the difference between "just a job" and a career! Search for a company that clearly states their values, and ask yourself whether they sound like the kind of employer you'd enjoy working for. As an example, at OSL we consider ourselves people-driven, and the OSL Pillars reflect our five core values: people, passion, honesty, respect, and integrity.
Watch for Signs of Transparency
Transparency is important in an employer, from their hiring process to the employee experience, including raises, reviews, and promotions. During the hiring process, you're interviewing the employer to see whether they're a good fit just as much as they are interviewing you. Make sure they are clear about explaining the process so you know what to expect at every step, and look for other signs of transparency in how they talk about their company. At OSL we're clear about our needs for each client, and allow employees to transfer to positions with other clients if the move seems to be a good fit.
Pay Attention to How They Stack Up Against Other Employers
Your interviewer may be comparing you to the competition, but you need to be doing the same – especially in an industry that is demanding on employees. Ask yourself, is this going to be one of the best places to work retail? Look for things that set them apart from other employers, such as unique workplaces, a quality employee experience, and company recognition. OSL has been recognized several times for our standout performance in the industry, with awards such as the Canada Best Managed Award and Walmart's US award for 2019 Supplier of the Year.
How OSL RS Can Help
If you're tired of having jobs that are just a means to an end, if you want to start a career you can be proud of, then you're ready for OSL Retail Services. Our clear company vision, our emphasis on people and passion, and our recognition in the industry all make us one of the best places to work in retail today. For more information about employment opportunities or to start your application process, visit our career page today. We look forward to welcoming you to the #OSLFamily.
You might also want to check our related posts: